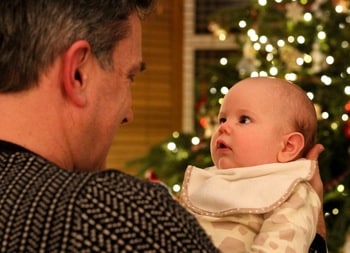 When you're a new parent, it can be intimidating to know exactly how to take care of your child when they are sick, irritated, or overall uncomfortable. And when it comes to things like getting something out of their eye, it can be hard to know exactly what to do in order to get your baby feeling better and back to their normal giggly self once again. Read on to learn more.
Warm Compress
The easiest way that you can help to soothe your little one when they are fussy because they have something in their eye while simultaneously getting the dust out of their actual eye is to apply a warm, damp compress over their eye. When doing this, make sure that the water isn't too warm because you don't want to scald them— simply test the water on your forearm before hand. Once deemed the correct temperature, take the warm compress and lay it over your baby's affected eye. The warmth and the water will help your child's eye to water naturally which will help push out the dirt or eyelash trapped in their eye. Leave the compress on their eye for a minute or two at a time or for as long as they will hold still.
Flush It
If your child is inconsolable because they have something in their eye and you are feeling frantic about getting it out, avoid using your fingers because this could actually scratch their cornea. Instead, take a medicine dropper and fill it with lukewarm water— again testing it on your forearm before using it— then try to hold their eye open and squirt the water into their eye. Although your child will likely fuss and scream, the water and pressure of water will help to extract the dirt from their eye.
When your child is crying and inconsolable due to things such as having something in their eye, you want to do everything you can to make them feel better again. However, when you're feeling frantic, you might not know exactly how to correctly remove the dirt from their eyes. To learn more about vision care, contact Dr. Jeffrey Maehara's office today!
https://www.maeharaeyes.com/wp-content/uploads/2016/10/night-baby-eyes-son-76829.jpeg
253
350
Maehara Eyes
https://www.maeharaeyes.com/wp-content/uploads/2016/04/banner.jpg
Maehara Eyes
2016-11-15 07:07:50
2016-12-20 18:24:31
How to Get Dust Out of Your Baby's Eye